---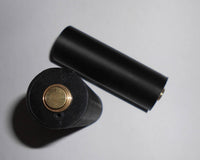 Price is for 2x 20700 Battery Capsules.
Tape is not required around the batteries.
Battery Capsules fit comfortable into SDC metal detector battery compartment, which in turn reduce battery rattle and dropouts.
Made with a special terminal to help prevent battery dropouts, often caused with NiMH C Batteries.
Capsules will not warp or shrink like other brands on the market, we use special plastic to ensure this does not happen.
Each Capsule Weighs: 20.4g (total weight with two capsules and 2700 batteries of 163.6g)
20700s last longer after second cycle charge.
20700 batteries and charger sold separately.
- We recommend Sanyo NCR20700B Batteries.